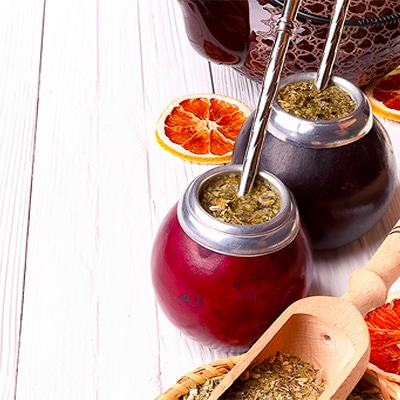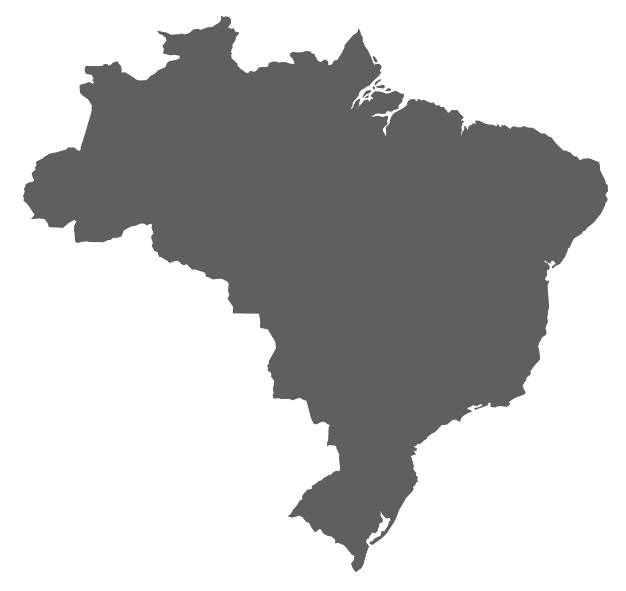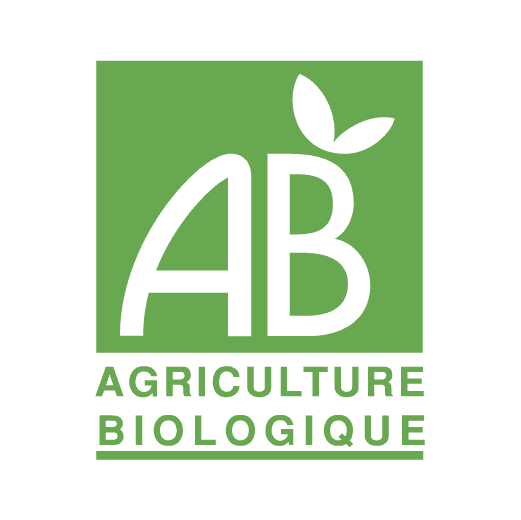 Fruity organic mate: fresh and full of vitamins!
Fruity is made exclusively of quality leaves, without dust, debris or branches, enhanced by the fresh flavour of orange: a mate that puts you in a good mood!
Mate leaves have a naturally bitter taste. This bitterness is exacerbated in finely cut matés, which are often very dusty, and in those with lots of stems.
For our Fruity mate we have chosen a 4-5mm wide leaf cut for a light bitterness. It is scented with notes of orange that soften it while giving it a fruity and vitaminized touch.
This is a mate that will particularly appeal to those looking for a mate that is close to a fragrant green tea, but with a higher caffeine content, or to those who want a fresh and sunny mate!
A certified organic Green Maté from Brazil
Our organic Yerba Mate comes from the Parana region in southern Brazil, where it grows at an altitude of about 800 m. Maté leaves come from a tree called Ilex paraguariensis. The climate in Parana is characterised by very mild temperatures not exceeding 25°C in summer and not falling below 10°C in winter. Thanks to these exceptional climatic conditions, combined with regular rainfall, mate grows slowly and harmoniously, and its leaves are loaded with minerals and active ingredients: the result is an unequalled caffeine and antioxidant content!
Our mate is certified organic: it has been grown without the use of synthetic chemicals in order to respect nature, the growers and your health: no undesirable substances in your calabash!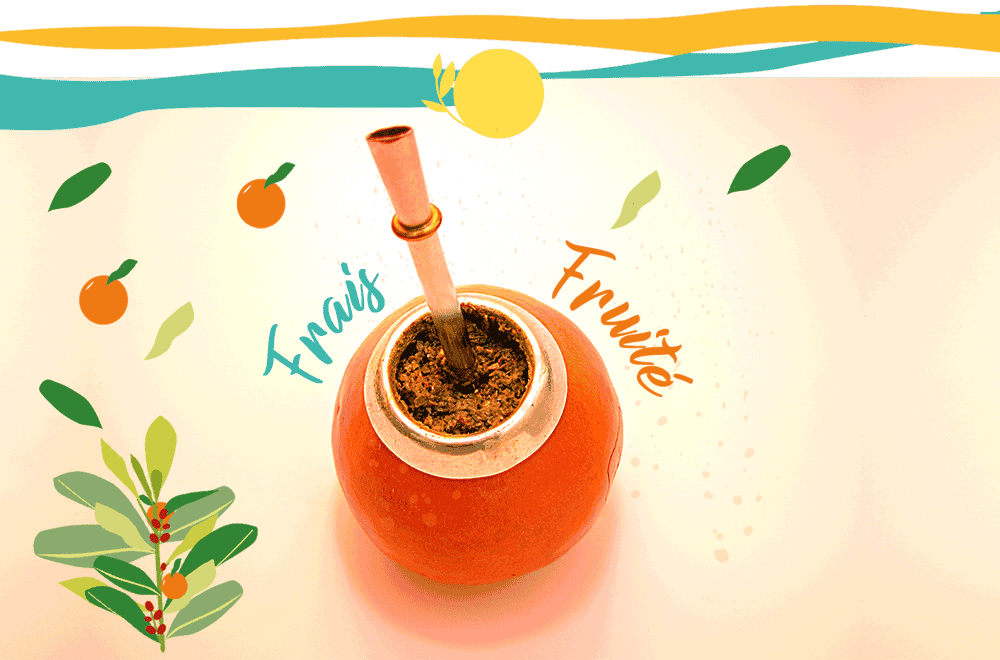 A good flavoured mate requires the use of high quality ingredients. The recipe is simple, but the ingredients are fundamental. This is how you will find real flavours and authentic tastes… far from industrial matés with synthetic aromas.
Maté "The Fruity" is composed of 3 carefully selected quality ingredients:
Origeens mate without stem or powder,
natural orange flavours
corganic orange peel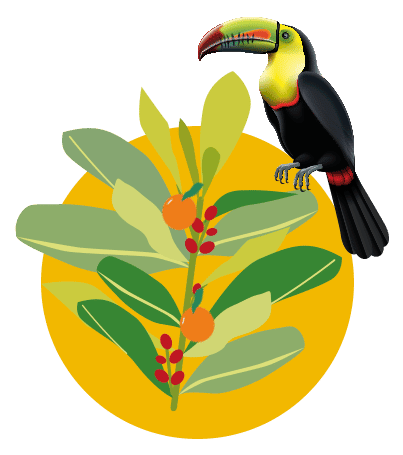 Buy Yerba Mate Orange - The Fruity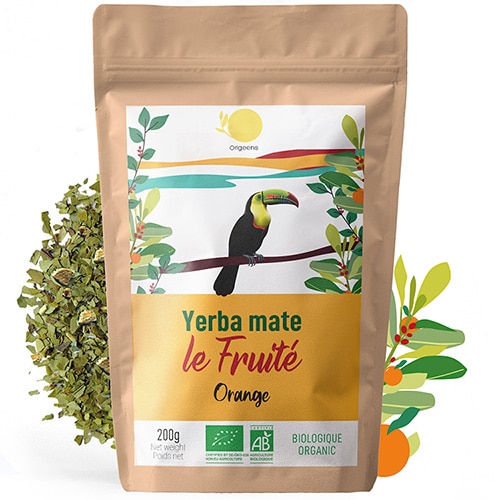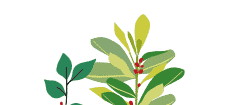 How to drink Maté "The Fruity"?
Drinking the Fruity in the traditional way
Traditionally, mate is drunk with a calabash (also called a gourd) and a filtering straw called a bombilla.
The Fruity is particularly pleasant consumed in this way and can be sipped with pleasure throughout the day!
Our tips for this method:
Always moisten your mate with a small amount of cold water: this will prevent its bitterness from developing.

N'utilisez jamais d'eau bouillante, mais de l'eau frémissante à 70°C-80°C, c'est une erreur courante… Boiling water will exacerbate the bitterness of your mate and alter its aroma and benefits.

If you cannot heat your water to a precise temperature: bring the water to a boil and then let it cool for 5-7 minutes, you should then be in the right temperature range to enjoy your mate.
Cocido: The Fruity like a tea
Cocido is a Spanish term for preparing mate like tea or coffee.
With its freshness and sweetness, Le Fruity evokes a fruity green tea and is therefore particularly suited to this method:
You can use a tea ball or a teapot.
Utilisez une boule à thé, une passoire… bref, votre ustensile à thé préféré.

Measure out the quantity of yerba mate in the same way as you measure out loose tea.

Like the traditional method, wet the herb with a little cold water so that the leaves retain their flavour and nutrients.

Add hot water, be sure it is simmering but not boiling.

Leave to infuse for 5 to 8 minutes.

To make a stronger brew add more herb.
Terere mate: the iced yerba mate
Mate, served chilled, is very thirst-quenching in the summer for hot days. With its enchanting, sunny orange fragrance, The Fruity is all the more refreshing prepared this way!
Put 4 spoons of mate in 1 litre of simmering water

Infuse for 5 to 8 minutes and filter

Cool the preparation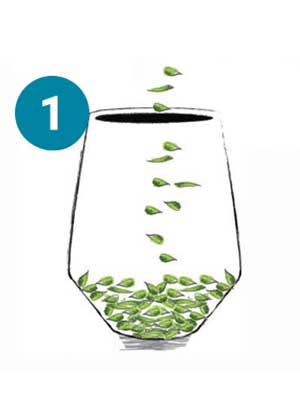 Fill at least 1/4 of the
calabash with mate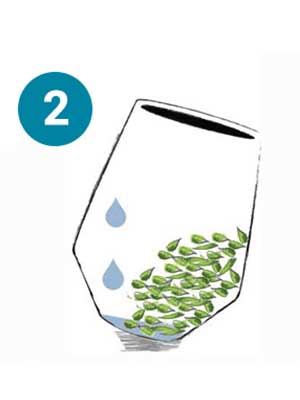 Tilt the calabash so that the mate slides to one side. Moisten (cold or warm water) the leaves on the empty side.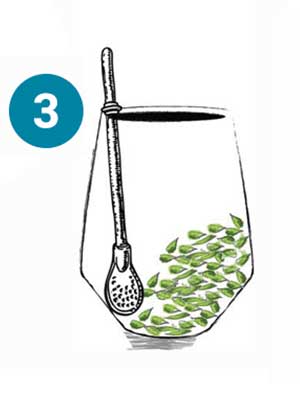 Place the bombilla on the empty side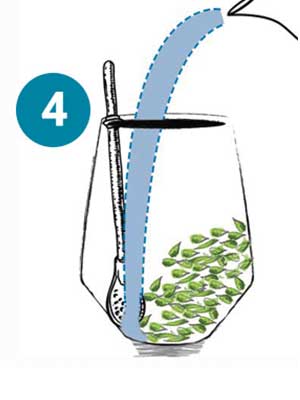 Pour lukewarm water (80°c max) onto the bombilla, empty side.
Top up the water level during the day, without changing or discarding the mate.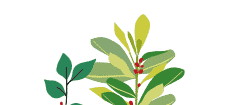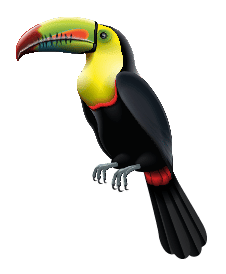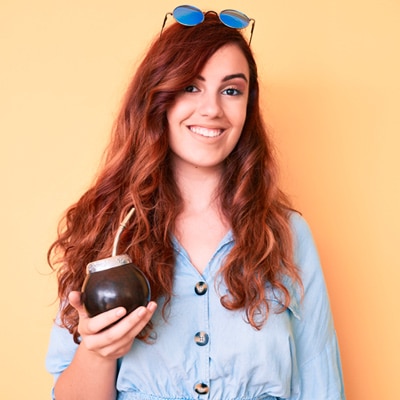 Together with tea and coffee, mate is one of the three main drinks that contain the most caffeine. For comparison, black tea contains about 20mg of caffeine per 100ml of beverage, yerba mate 80mg and coffee on average 120mg.
Yerba mate is therefore more caffeinated than tea and slightly less than coffee, but it does not have its disadvantages. Indeed, for some people, coffee can increase stomach acidity, which promotes heartburn, a problem not faced by mate drinkers.
The energy boost provided by mate is also smoother and more gradual than coffee, thus avoiding the negative effects sometimes experienced with coffee such as nervousness, palpitations or anxiety.
Mate is the perfect companion for people looking for a daily energy drink to replace or reduce their coffee consumption, without its disadvantages, or simply to alternate and vary the pleasures.
Yerba mate also has a reputation as a healthy "super drink" because it is full of vitamins, minerals and antioxidants.
Buy Yerba Mate Orange - The Fruity