A brief history
Raspberry leaf tea was used in classical times by the ancient Greeks, who drank it for its digestive properties.
Native American women used raspberry leaves in decoctions to restore hormonal balance, to regulate the menstrual cycle, tone the uterus, help with labour during the birth process and to relieve the effects of menopause.
These days it is used a lot in Anglo-Saxon countries, where it is recommended for supporting women through puberty, pregnancy, birth and menopause.
Properties of raspberry leaf tea
Raspberry leaf herb tea is very much appreciated by pregnant women. It can actually be used from the third trimester of pregnancy to prepare labour and birth. Before you start using it, you should ask the advice of your midwife or your gynaecologist.
It is also recommended for heavy periods (dysmenorrhea), endometriosis or premenstrual syndrome.
And what's the secret of raspberry leaves? It contains fragarine, a molecule which has a toning and relaxing effect on the uterus, which makes labour easier during the birth process (1).
It also contains vitamins B and C, antioxidants and minerals, especially iron, which makes it an interesting herbal tea from a nutritional point of view(2).
Surprising at first sight because of a white surface which may give the impression that they have passed their best, and because of a delicate taste which doesn't really taste like raspberry, raspberry leaves can be crucial allies for those who take the time to discover them and to enjoy them!
Taste
The taste of a tea made from raspberry leaves is delicate and earthy. The taste does not put you in mind of raspberries, but is closer to the taste of black tea, but lighter.
Preparation
Brew 1 tablespoon of raspberry leaves for 1 cup (250mL) in simmering, but not boiling, water.
Drink 2 to 3 cups per day.
A tip from our team: You can add a slice of untreated lemon, a few slices of ginger or a teaspoon of honey to your tea. Relaxing moment guaranteed!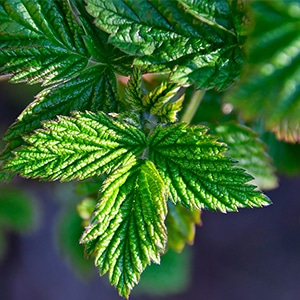 Precautions for use
If you are pregnant, ask the advice of your midwife or your gynaecologist. This tea is not recommended during early pregnancy, wait for the 6th month of your pregnancy before you start drinking this tea.
Composition
Crushed raspberry leaves which are certified organic
Free from caffeine or theine, this herb tea can be drunk at any time of the day.
Also called: Raspberry leaf herbal tea, Raspberry leaf infusion, raspberry leaf tea

Did you know ?
Legend has it that raspberries originally came from Mount Ida in Crete. Zeus spent his childhood there, brought up by the nymph Ida with the goat Amalthea. One day Ida grazed her breast on a thorn of a raspberry bush and her blood dyed the raspberries, which were originally white, red.
The raspberry bush, from the Rosacea family (Rubus idaeus), is a thorny shrub which grows easily in the wild on the edges of forests and in the undergrowth in Western Europe. We know it well because of its delicious little red fruits with small seeds, raspberries. They are actually one of the TOP 10 favourite fruits of the French!